Workshop Venues
The center is presently based at the Johannes Gutenberg University Mainz in the Physik Institut where short and long term visitors can work and the research of the center in spin based phenomena takes place. For workshop and training meetings the center uses venues like the beautiful Schloß Waldthausen and the Mainz Institute of Theoretical Physics, MITP.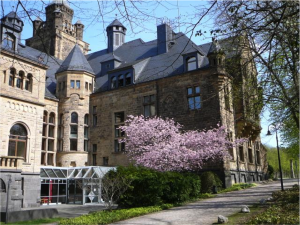 The Schloß Waldthausen is located about 6 km from the University. It provides housing for all participants and wonderful facilities for seminars and discussion areas.Besides this location there are many other possibilities in the are which has an abundance of beautiful villas that can be rented for workshops.
For workshops at the university we partner primarily with the MITP.